Videos and talks of Mother Trinidad de la Santa Madre Iglesia
A clear presentation of the truths of our Catholic faith
Displayed on this page are audio and video recordings. These recordings were made during some of the talks and encounters conducted by Mother Trinidad where she manifests the riches of our faith with the strength of a witness, doing so in a simple language, but full of theological truth and supernatural light.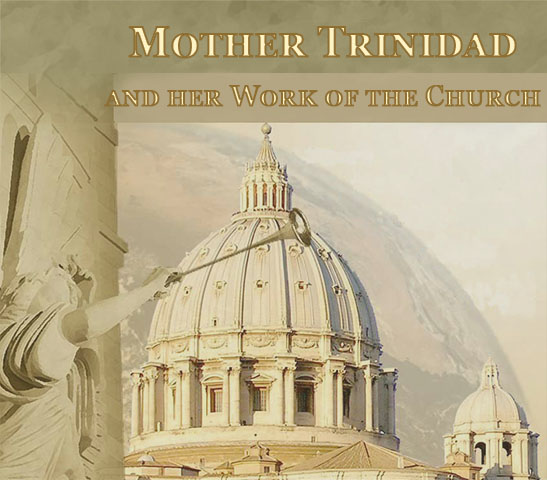 Because of the clear conscience that I have of being "The Echo of the Church," I feel impelled to express by all possible means within my reach, the discovery of all these realities that the Eternal One has unveiled to my soul for me to communicate them.
Mother Trinidad of the Holy Mother Church
Videos
The Divine Mercy, in spite of our "no's," invented, within His wondrous power, the infinite way to bring us definitively unto Eternity
Beloved soul, help me to help the Church by showing Her as She is and as God wanted Her in His divine mind

Incarnation and present moment

To contend with God, and to be victorious

Consecrated

The Assumption of Mary

God's Will

My Mother Church
The Divine Persons are as infinitely distinct between Themselves as They are equal in Their Being

Priestly Church

Living in perfection

God gives himself to me through Christ, Mary and the Church

My sixtieth birthday

What is my vocation?

God has created us only for Him

God in Himself, and God in us

Pure love in Heaven

The voices of silence
God is infinite Holiness and Virginity, Who communicates Himself along with Christ and Mary
God is perfect, and he does everything well; but the creature breaks the plans of the Creator
The Plan of God, manifested by the "Echo" of his Church, calling out for souls, to fulfil the mission that God has entrusted me of helping the Church in her essential mission, for being the smallest and helpless of the daughters of the Church

Pure love on earth

The Father's Bosom is open
God is Himself light of infinite wisdom that illuminates us through Christ, by means of Mary in the Church
God restores the fallen man, in Christ and through Christ, in the womb of the White Virgin, who through the romance of the Holy Spirit's love, breaks into divine Motherhood
On my birthday, under the see of Peter, with my children in Saint Peter's Basilica, on a thanksgiving pilgrimage for my encounter with the Holy Father…!
In the consecrated Host the sublime Sacrament is performed for the salvation of souls: They can fall into hell!
Live out your priesthood together with the High and Eternal Priest in order to give glory to God and life to souls
Next to the stable of Bethlehem at Rocca di Papa in a moment of intimacy and loving communication between my soul and the children of the great promise
Again the Church is showing herself to me and asking me for help in her petitions of pain and agony, that I may help Her through my descendants, as the echo of Her life, mission and tragedy, extending Christ's mystery and his mission
Encounter with the Bishops who stayed in our house of St. Peter the Apostle in the year of the Great Jubilee, and went to Rocca di Papa to visit Mother Trinidad

Accompanying Jesus in the Eucharist, and living with God in the soul
Talks
Mary is the bridge